Last chapter in story of Belfast's Bookshop at Queens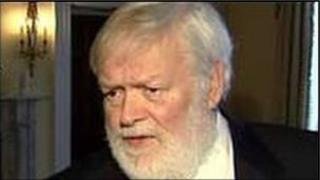 The final chapter in the story of one of Belfast's best-loved bookshops comes to an end later this year after 53 years.
The Bookshop at Queen's has been a favourite haunt of browsing book-lovers as well as students seeking that elusive text book.
Always willing to take a chance on small local publishers, it was a treasure trove for the most discerning book-worm.
With portraits of local writers lining its walls, its well-stocked shelves and "bookish atmosphere," the store was one of the last traditional bookshops in Belfast.
Its board of directors, however, has now decided the shop is no longer a viable business concern.
All 15 staff will be made redundant when the doors are locked for the last time at the end of August.
The bookshop opened in 1958 at University Square and moved 39 years ago to its current site on University Road opposite Queen's.
Core trade
Manager Tim Smyth, who has worked at the shop for 24 years, said he accepted that it had become increasingly difficult to compete with online book providers.
He said the core of their trade was students' text books but the internet was able to provide almost all the information needed for coursework and examinations.
Mr Smyth said the advent of e-books meant that readers had access to thousands of titles online.
"You can source information online freely," he said.
"I have to concede our model of selling books does not work anymore."
He said he was proud of the service provided by the shop.
Poet Michael Longley said all his books and most of those by his friends and colleagues had been launched at the shop. He described news of the closure as "shattering and heart-breaking".
It was, he said, the "centre of cultural life at Queen's University and in Belfast".
"It's part of our literary heritage. It specialises in Irish literature, it supports small local presses and it promotes work by people from here," Mr Longley said.
"But it's not just literary, it has been an oasis of civilisation throughout the Troubles, a focus for our more generous instincts, a centre where books that analysed our troubled society were launched and highlighted.
"If you wanted to find out about Irish history and culture, one of your major sources would be the bookshop, a reservoir.
"It was also fun because readings were held there, books were launched there."
The Bookshop at Queens ceases trading on 31 August.