Disappeared search: body exhumed in County Monaghan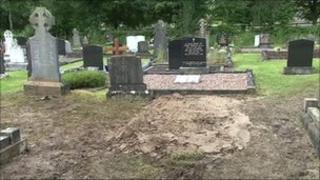 The organisation responsible for finding the remains of the "Disappeared" of the Northern Ireland Troubles have exhumed a body in the Republic of Ireland.
The remains were taken from a church graveyard near Scotstown, County Monaghan.
Previous digs in the search for Columba McVeigh have taken place nearby.
Mr McVeigh, 17, from Donaghmore, County Tyrone, was abducted and murdered by the IRA in 1975.
His brother Oliver said he was not optimistic that the remains taken from the graveyard were those of Columba.
"I am not that confident it is him, so I can't really build up much hope," he said.
"You have to be hopeful that it will come to fruition some time.
"But I wouldn't be hopeful this time."
North Monaghan coroner, Dr Martin Watters, authorised the exhumation from a named grave in a cemetery next to a church in Urbleshanny.
An Irish police spokesman said detectives and officials in the Independent Commission for the Location of Victims' Remains (ICLVR) received information about a body buried in a grave where another set of remains is interred.
The spokesperson said they hoped to carry out a forensic examination on the remains to establish if the remains are one of the Disappeared.
It is thought the tip off came from a Fermanagh priest. It is believed that a shallow grave was discovered in the cemetery plot and a second coffin was placed on top of the first one.
State pathologist Professor Marie Cassidy, ICLVR staff and scientists were all on site for the exhumation.
The Irish police spokesman said that subsequent forensic examination of the remains would take some time.
Despite extensive searches in County Monaghan, Mr McVeigh's remains have yet to be found.
His mother had campaigned tirelessly on her son's case before her death in 2007.
ICLVR has overseen the discovery of seven bodies and numerous searches since it was set up in 1999 to locate those murdered and buried in secret graves by republican paramilitaries during the troubles.