Men plead guilty after 'Celtic shirt' attack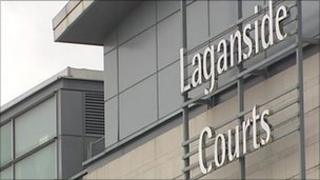 Two Belfast men who attacked a man wearing a Celtic shirt have each been given three years detention.
Philip Donald from Walnut Court and Craig Kennedy who is 18 and from Tavanagh Street, pleaded guilty to attempting to cause grievous bodily harm.
Donald, 20, also pleaded guilty to robbery and resisting police.
Defence lawyers said the attack had been "brutal, sustained and harrowing" but had been out of character for them.
Judge Tom Burgess said the "disgraceful attack" carried out on a drunk and defenceless man had sectarian overtones.
CCTV footage of the five-minute attack was played to Belfast Crown Court.
It showed the men attacking the victim, John Lavery, as he walked past Lavery's Bar on Shaftesbury Square just after 0500 BST on May 23 2010.
A mobile telephone, cigarettes and £30 were also stolen.