Head of civil service defends Paul Priestly decision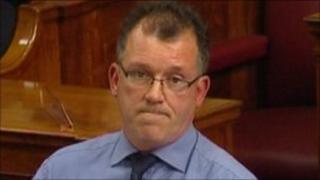 The head of the civil service, Sir Bruce Robinson, has defended his decision not to dismiss a senior civil servant found to have interfered in the political process.
Paul Priestly, was demoted for helping to draft a letter of complaint to the Public Accounts Committee (PAC).
The committee heard he had suffered loss to his salary, career and reputation.
Earlier it emerged he had apologised to the PAC for his actions in a letter.
But PAC member Mitchell McLaughlin said the fact that Mr Priestly's actions in drafting a letter of complaint to the committee were not regarded as gross misconduct was "beyond comprehension".
Untenable
Sir Bruce Robinson said Mr Priestly, who lost his job as permanent secretary to the Department of Regional Development, had not yet been re-assigned to a new post even though he was still being paid.
The controversy surrounding Mr Priestly began after it was discovered he had helped draft a letter of complaint from Peter Dixon to the PAC in July 2010.
At the time Mr Dixon was carrying out an independent investigation into Northern Ireland Water.
The regional development minister at the time, Conor Murphy, said Mr Priestly's post was untenable.
'Lack of candour'
"I am writing to offer my sincere apologies to you and your colleagues on the Public Accounts Committee for my involvement in drafting the letter of complaint that Peter Dixon sent you on the 5th of July last year," Mr Priestly's letter said.
"I regret my lack of candour to you and your colleagues about the role I had played.
"My actions were not intended in any way to undermine, obstruct or interfere with the important work of the Public Accounts Committee."
Sir Bruce was called to the committee meeting on Wednesday to discuss the inquiry into Mr Priestly's suspension.
Mr Priestly was downgraded from permanent secretary to deputy secretary earlier this month after a disciplinary process.
In a letter to the committee, Sir Bruce said he had made the decision.
It also said he would not be releasing any documentation on the issue.