Six years for illegal immigrants who set up drugs deal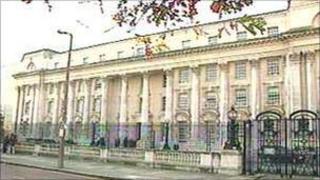 Two illegal Chinese immigrants who organised a drugs deal in a shopping centre car park in Newry have been sentenced to six years.
Bin Shi, aged 33, and 25-year-old Ming Chen, both with addresses at Malachy Conlon Park in Crossmaglen, were convicted earlier this month.
They were charged with possessing and supplying cannabis.
The pair were recorded on CCTV making the deal.
The drugs deal involving eight-and-a-half kilos of high grade cannabis was set up in the car park of Newry's Quays shopping centre on 28 April, 2010.
The men face possible deportation after serving at least three years in jail.
Defence lawyers Sean Doherty and Ian Turkington said the men had been used by unscrupulous gang masters as they were illegal immigrants.
Newry Crown Court Judge Geoffrey Miller, sitting in Belfast, said it was clear the men had played "a significant role in what was a sophisticated drugs operation".
He said a severe punishment was needed to ensure the wrong message would not be sent out to those involved in such a "pernicious crime".