Lord Chancellor Ken Clarke vetoes barrister as judge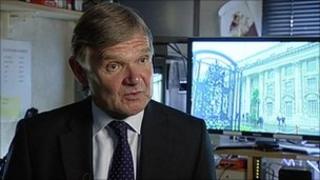 A barrister from NI, whose appointment as a High Court judge was vetoed by the Lord Chancellor Ken Clarke, said he was ruled out because of his involvement with the Presbyterian Mutual Society.
Mark Orr, who has been a QC for 15 years, was a director of the PMS.
The Judicial Appointments Panel in Belfast had recommended his appointment.
He has been told it was vetoed because he did not declare his PMS position on his application form.
Mr Orr said he was disappointed by the decision. He said the Judicial Appointments Panel had discussed the issue of the omission on his application form and although he was criticised for it, they said it should not stop his appointment.
"I feel I'm now being punished for being a volunteer," he said.
"I have had a vast spectrum of clients in NI -appearing for everyone from Sinn Fein to the PUP. I think I'd have been acceptable right across the community in Northern Ireland.
Mr Orr said the letter from the lord chancellor's department explaining the decision contained a condition that he would not be allowed to see it.
"This is a matter which I'm going to raise in a number of quarters including with my MP. I cannot understand why I'm not allowed to see a letter which condemns me."
A spokesperson for the Ministry of Justice said: "We don't comment on ongoing appointments processes."