'Return UVF members to jail' - Terry Spence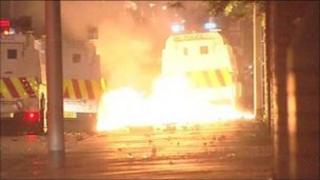 Active UVF members freed from prison on licence under the Good Friday Agreement should be returned to jail, the Police Federation chairman has said.
Terry Spence said the NI secretary of state should make the move due to the UVF's involvement in riots in east Belfast last week.
Police accused the loyalist group of orchestrating trouble in the Short Strand/Lower Newtownards Road area.
Mr Spence was speaking at the federation's annual conference.
"If being a proscribed organisation is to mean anything, then action must be taken," he said.
"The behaviour of the UVF demands that active members released under the Belfast Agreement on licence should be recalled to prison by the secretary of state.
"We cannot tolerate paramilitary groups creating public havoc because they think they have no voice in how Northern Ireland is governed."
During his speech, Mr Spence paid tribute to Constable Ronan Kerr, who was murdered by dissident republicans in April.
"Our colleague Ronan is a noble example of the latest in a series of courageous officers who have paid the supreme sacrifice for upholding the rule of law," Mr Spence said.
He said the dissidents' numbers were growing.
"It is common knowledge that they number around 650 - hardly the microscopic numbers officially suggested in official circles," he said.
Mr Spence said 32 police officers in Northern Ireland have been forced to move home in the past 18 months as a result of the increased terrorist threat,
He repeated his criticism of the decision to get rid of the PSNI full-time reserve which he said did not make sense in light of the increase in dissident attacks and instead called for 1,000 new officers to be recruited.
The Police Federation chairman called on the Northern Ireland's Executive to put the fight against terrorism at the top of its agenda.
"It is not the economy that needs put at the heart of the programme for government, it is the defeat and elimination of the cancer of terrorism," he said.
"When terrorism is ended, the economy will be reinvigorated, the paramilitary stranglehold on communities will be broken, civic life will recover and maybe then, we will have community policing for real."
Mr Spence also again criticised the amount of resources dedicated to investigating the past.
"I invite the justice minister and the secretary of state to consider the proposition that far from serving the worthy objective of bringing closure to the relatives, the reports and inquiries are increasingly pulling all of us all back into the bitter past through the revisiting of grievous events.
"Wounds are being re-opened rather than being allowed to heal," he said.