CCEA's Gavin Boyd in exams body spending apology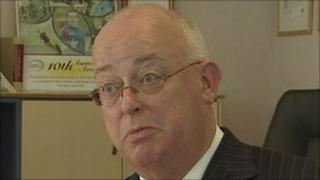 The head of the NI examinations board, the CCEA has apologised for its hospitality and travel spending.
Details of its expenses emerged last month following a Freedom of Information request by the Irish News.
Among the revelations was that it had spent £4,000 chartering a private plane to take 30 people to a conference in Galway.
Gavin Boyd told the Education Committee at Stormont the CCEA had fallen short of its own standards on occasions.
The committee heard on Tuesday that, as well as the trip to Galway, £7,000 had been spent attending an awards dinner in Paris and £2,000 for a drinks bill in Donegal.
'Not stand over'
Mr Boyd said that taking staff to the awards event in Paris was recognition for transforming CCEA from what he called a "basket case in the last chance saloon" into a "well-run organisation".
However, he said he regretted and could not stand over, the money spent at some events.
Trevor Lunn of Alliance said he agreed that hiring an aeroplane had been cheaper than travelling by road and having to pay for overnight accommodation.
The Department of Education said it was "closely monitoring spending" by the exams body.
Mr Boyd told the committee: "I want at the very outset to acknowledge the seriousness of these issues and in some instance CCEA has fallen far short of its own standards."
"I regret this very much, as does the council of CCEA and the staff of CCEA."