NI attorney general in move on confession evidence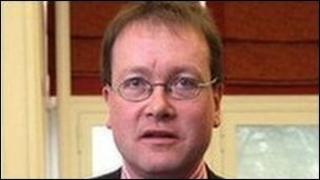 The Northern Ireland attorney general has intervened in the cases of four men bidding to overturn their convictions for terrorism offences.
The charges were admitted when the four were teenagers more than 30 years ago.
John Larkin QC is to assist the Court of Appeal in clarifying the test on when guilty verdicts in this type of situation should be set aside.
The cases, which will feature legal arguments on the then law on confession evidence, will be heard in October.
They involve three Londonderry men, Eric Wright, James Henry Brown and Peter Joseph McDonald, along with Stephen Paul McCaul from Belfast.
They all signed confessions while in police custody during 1976-77.
Prosecutors have already confirmed they are no longer seeking to stand over any of the convictions.
Their cases, along with that of McCaul, were referred back to the court by the Criminal Cases Review Commission (CCRC).
They were all arrested on suspicion of terrorist-related activity, including at least one which involved membership of the IRA's youth wing.
Because they were aged 16 at the time of their detention, under Judges' Rules then in operation they should have been interviewed in the presence of a solicitor and appropriate adult.
Their cases were taken up by the CCRC due to alleged breaches of these regulations.
It has also been claimed they were ill-treated during their period in custody.
Mr Brown was sentenced to 10 years in jail for offences in the Shantallow area in 1976.
He was arrested in connection with two incidents: an explosion near a military foot patrol and a shot fired at soldiers.
During police questioning Mr Brown made oral admissions of being a member of the Fianna na hEireann (IRA youth wing) and that he acted as a look-out, the court has heard. This was the only evidence against him.
A senior Crown counsel previously accepted that in his and the other cases no parent or guardian was involved in the interviews.
Lord Chief Justice Sir Declan Morgan confirmed on Wednesday that submissions have been received by the attorney general and the Public Prosecution Service.
Fixing a full hearing for October, he said: "We think this case will require some careful consideration.
"Despite the fact that we have had a first hearing we are minded to list this for two days."