Colin Duffy bail case adjourned over strip-search claim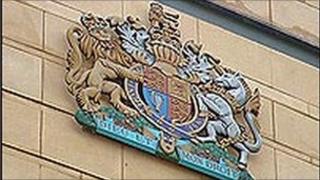 A bail application by a man accused of murdering two soldiers has been adjourned amid an "ongoing issue" on strip-searching in Maghaberry jail.
A defence lawyer told Belfast Crown Court that Colin Duffy, 43, had not been brought from the prison.
Mr Duffy, of Forest Glade, Lurgan and 45-year-old Brian Shivers, 45, of Sperrin Mews, Magherafelt, deny murdering the soldiers in March 2009.
The bail application was adjourned until August.
A trial date was set for 7 November.
Mr Duffy's lawyer told the court there was also an issue of obtaining transcripts of earlier bail hearings from his former solicitors.
Both men deny six charges of attempted murder and possessing firearms used in the attack at Massereene Barracks in Antrim.
Sappers Patrick Azimkar and Mark Quinsey were killed and two other soldiers and two civilians injured in the attack after pizzas had been delivered to the barracks.
Last October, Mr Duffy alleged he had been subjected to sexual and physical abuse during a prison strip-search and although another prisoner was granted leave for the situation to come under a judicial review, Mr Justice Treacy ruled last month that they were lawful.
A Crown lawyer said there was no objection to the adjournment.