Police take a 'robust' approach to alcohol at parades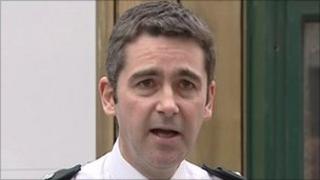 The Police Service of Northern Ireland has said it will take a robust approach to drinking at summer parades.
As part of a multi-agency strategy, the PSNI will work with parades and event organisers to tackle the misuse of alcohol at public events.
Chief Superintendent Alan McCrum said the service hopes to build upon the success of last year's initiative.
Last year, police made 219 seizures and removed 3,687 bottles and cans of drink on 12 and 13 of July.
"Officers will not hesitate to enforce legislation and bye-laws, and where possible will confiscate or seize alcohol and report people to local councils, the Public Prosecution Servuce or Youth Diversion Officers as appropriate," Chief Superintendent McCrum said.
"We want people to enjoy themselves, but to do it responsibly. Drinking excessively can lead to anti-social behaviour, it can leave people feeling intimidated or it can result in assaults and other crime. It is communities that pay the price."
Drew Nelson, Grand Secretary of the Grand Orange Lodge of Ireland, described alcohol abuse as an "increasing problem".
"The misuse of alcohol can put people off attending our parades and we will be co-operating with the PSNI to ensure all our parades and events pass off peacefully and can by enjoyed by everyone," he said.