Police clarify position on review of Kingsmills case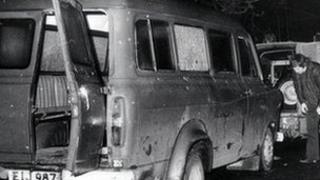 The police have issued a statement clarifying the position on a review of the Kingsmills massacre of 10 Protestant workmen by the IRA in 1976.
It had initially been indicated that a major review would be carried out after the publication of an investigation into the murders last week.
However in a statement on Thursday the PSNI said "there were no plans for a serious crime review".
There have been calls for a public inquiry into the killings.
The Historical Enquiries Team (HET) published the findings of its investigation into the atrocity last Tuesday.
It found that the IRA was responsible and that victims were targeted because of their religion.
The HET found that the rifles fired at Kingsmills had been used in as many as 90 other murders and attempted murders.
The families of the 10 murdered men have called for a public inquiry.
In the statement issued on Thursday a police spokesperson said:
"PSNI wish to clarify that the HET process is a cold case review of the murders and there are no plans for a serious crime review by the PSNI".