Michael McAreavey murder confession heard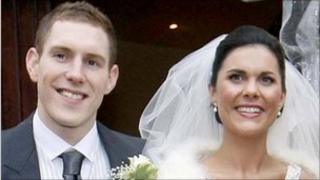 A court in Mauritius has heard details of a murder confession in the Michaela McAreavey case.
The 27-year-old teacher was found strangled in the bathroom of her hotel room on the island in January.
A policeman read out a statement signed by Avanish Treebhoowoon in which he claimed his deep regret and asked for forgiveness.
His lawyers have previously told the court the accused had been "beaten and forced to sign" a false confession.
In his statement he said he and a co-accused, Sandip Moneea, were stealing a wallet when Ms McAreavey entered the room.
Mr Treebhoowoon said Mr Moneea grabbed her by the throat to stop her screaming.
After Ms McAreavey fell unconscious, they put her body in a bath tub and turned on the tap "to get rid of any clues".
"I regret what happened and I ask for forgiveness for all of this," the statement added.
It was revealed that Mr Treebhoowoon had made two alleged confessions to police without a solicitor present in the 24 hours after the murder.
On 13 January, in the company of his solicitor, he signed a pre-written, full and detailed confession.
Ms McAreavey, the daughter of Tyrone boss Mickey Harte, was on honeymoon when she was murdered.