Jim Wells calls for end to 'free prescriptions 'abuse'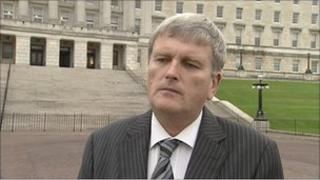 The deputy chair of the NI assembly's health committe has called for an end to the abuse of free prescriptions.
Jim Wells said sun tan lotions and tablets available to buy over the counter should not be given out for nothing on prescription.
He was speaking in the wake of a survey that suggests people in NI would pay a small charge for prescriptions.
Most of the 400 people surveyed by the Patient and Client Council said they were prepared to pay for their drugs.
The charge would help support the health service in the current economic climate.
Maeve Hully from the Client Council said some people were not prepared to pay.
"People who could pay would pay, but those who could not afford to pay - people with long term conditions felt it would be unfair to expect them to pay a charge for their prescriptions because they have so many and are on so many drugs," she said.
Mr Wells told BBC Radio Ulster's Talkback that he supported the decision to scrap prescription charges in April 2010.
But he said: "If it can be bought from the shelves, it should not be free on prescription."
He advocated a "commonsense approach".
"We have to stop the exponential growth in demand for prescriptions," he said.
Hospital consultant Professor Mahendra Varma said prescription charges were controversial.
"We all pay our taxes, the concept of free health care should be enshrined," he argued.
"Where do you draw the line... There are so many people with chronic conditions who are on medication for the rest of their lives.
"It is my view and it is the view of NI Chest, Heart and Stroke, that these patients should be given free medication."
Prof Varma warned that being prescriptive could leave to a two-tier health service whereby those who warrant care do not get it because they cannot afford it.