Hairy, bearded extras wanted for Game of Thrones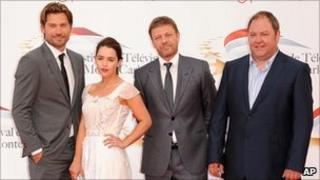 With a second series of the hit TV Game of Thrones due to start filming in NI soon the hunt for extras has begun.
The series follows the Stark and Lannister families as they jostle for control of King's Landing and Winterfell.
You may not get to join either of the noble houses, but with war looming they'll need plenty of minions to man their armies.
Filming is set to begin in July and run through to December in Belfast's Paint Hall studios and locations throughout Northern Ireland.
The epic fantasy adventure is a dramatisation of the second book of the "A Song of Ice and Fire" series of novels by George RR Martin.
The first series, recently on Sky Atlantic, showed two worlds, the dark north, filmed in Northern Ireland, and the sunny south, filmed in Malta.
The first series starred Sean Bean and Mark Addy. Stars returning to Belfast to film the next series include Charles Dance, Lena Headey, Peter Dinklage, Alfie Allen and Coleraine actress Michelle Fairley who plays Catelyn Stark.
Hair and beards
And if you fancy rubbing shoulders with the small-screen stars, open auditions for extras are being held in Belfast on Monday 4 July.
Not anyone can appear in Game of Thrones however, and there are some fairly specific requirements for any extras.
Men must be prepared to grow their hair and beards from now until January 2012 - maybe not so comfortable for the summer months.
They should be strong and fit, and it definitely sounds like you could be sent to war as archers, swordfighters, re-enactors and people with military experience have been asked to apply.
Also required are blacksmiths, skilled building tradespeople, farmhands, butchers and hunters.
And ladies don't feel left out, they also need you, however women aged between 35 and 65 with long, non-dyed hair may be harder to find.
So if you meet any of the above criteria the casting call is being held in the Holiday Inn, Ormeau Avenue, Belfast on Monday 4 July from 1100 BST to 1900 BST.
For more information go to Extras NI.