MTV party poser prompts fresh call on NI drinking laws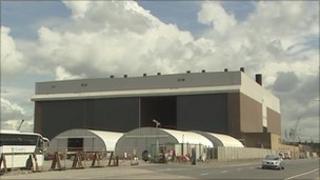 The hospitality trade in Northern Ireland has said more flexibility is needed in the region's drinks licensing laws to cash in on special events.
Belfast will host the MTV music awards in November with many international rock and pop acts due to attend.
But organisers may have to change plans for an after-event party because of licensing laws which forbid the selling of alcohol after midnight on Sunday.
The NI Hotels Federation said it was not seeking an "Ibiza style industry".
"If you have an event that is different to a normal event that we have here, there should be an opportunity for us to set in place a framework that works for that event," Janice Gault of the NI Hotels Federation said.
"I don't think anyone wants a carte blanche situation, we don't want to turn this into an Ibiza style industry where people can drink all night long.
"But if it does pertain to a particular event there should be a mechanism that allows us to get the best out if it."
Colin Neill of Pubs of Ulster, which represents 70% of pubs in NI and and a third of all hotels, said there were differences between licensing laws in Northern Ireland and the rest of the UK.
"Where the rest of the UK actually had additional laws for the royal wedding we discovered that our licensing laws do not allow any variation," he said.
Odyssey arena
"This was further highlighted when MTV arrived and we realised that we could not react to take the opportunity and get the economic return on the investment government have made here.
"These people will be out, they will be socialising and we have actually quite stringent laws about the sale of alcohol and the times we operate in."
The MTV event will be held in the Odyssey arena and the plan was to hold the all-night party in the nearby Pavilion bars.
When told the news about the drinks licensing laws, the organisers wrote an e-mail to Belfast officials saying: "Shutting the bars... isn't an option and would create enormous problems".
Belfast City Council and the NI Tourist Board between them are paying more than £500,000 towards staging the event.
One possible compromise being examined is for a private party for the stars to be held in the former Harland and Wolff paint hall elsewhere in the Titanic quarter.
In a statement, the Department for Social Development said that under the normal legislation timetable there would not have been enough time to introduce changes to licensing laws by November of this year.