Irish Justice Minister handed Smithwick tribunal report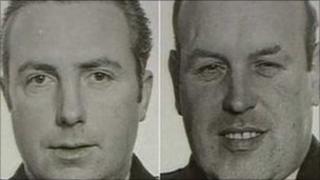 The Irish justice minister has received an interim report on the tribunal investigating alleged Garda collusion in the murders of two high-ranking RUC officers.
The Smithwick Tribunal was set up to look at the 1989 murders.
Chief Superintendent Harry Breen and Superintendent Bob Buchanan were killed in an IRA ambush close to the border.
Letters written by the tribunal's chairman and Minister Alan Shatter have also been presented to the Dail.
The correspondence relates to the duration of the tribunal and the Irish government's decision to impose a deadline and accompanies the interim report which is still to be published.
Mr Shatter had asked Judge Peter Smithwick for an interim report by the end of June.
Mr Shatter acknowledged he did not consult with the judge immediately before the Dail motion.
It required the tribunal to produce an interim report by 30 June and a final report by the end of November this year.
Under the Tribunal of Inquiries (Evidence) (Amendment) Act 2002, the Clerk of the Dail is obliged to ensure that publication of the report would not prejudice any potential judicial proceedings.