Alan Shatter denies interfering with Smithwick Tribunal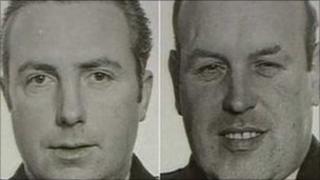 The Irish justice minister has denied claims of government interference in the work of the Smithwick Tribunal.
It follows strong criticism by tribunal chairman, Judge Peter Smithwick, that statements made by Minister Alan Shatter had an impact on its work.
The tribunal is investigating allegations of Garda collusion in the IRA killings of RUC Superintendent Bob Buchanan and his colleague Chief Superintendent Harry Breen.
The men were murdered in March 1989.
The interim report of the Smithwick Tribunal was published on Thursday.
It marks the first deadline imposed on the tribunal after the Irish government changed its terms of reference.
In a series of strongly worded letters, Judge Peter Smithwick accused Mr Shatter of "spin" when he asked for the final report by 30 November.
The judge described it as an attempt to interfere with the independence of the tribunal.
The justice minister is now under fire from opposition parties in the Republic - and the DUP's MP Ian Paisley earlier called on Mr Shatter to step down.
Fianna Fail's spokesperson on justice, Dara Calleary has accused the justice minister of threatening public confidence in the tribunal.
In response, Mr Shatter said Mr Calleary's comments came with "surprise and regret".
He said: "Dara Calleary seeks, on the basis of selective quotations from lengthy correspondence between myself and Judge Smithwick, to involve the operation of the Smithwick Tribunal in party political controversy and to cynically misrepresent action taken by me.
"His cynical and ill-considered approach carries with it the danger of undermining public confidence in a tribunal established by the Oireachtas to inquire into a gravely important matter."
The tribunal has until November 30, this year, to produce its final document.