Creggan residents hold protest after car attack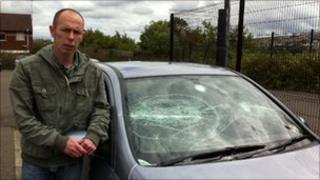 Hundreds of people took to the streets of the Creggan estate in Londonderry on Thursday night to protest about an attack on a community worker's car.
Several windows of a car belonging to Sean McMonagle were smashed on Wednesday night.
The supporters made their way from his home in Rinmore Drive to the community centre in the estate.
Mr McMonagle said he would not be intimidated.
"It is not just about me, it is about what I do, it's about what a large number of people in this area, right across Derry do," he said.
"I think this is the community beginning to stand up and saying to any of these groups, or any individuals that are involved in this type of stuff, 'no, you're not going to isolate or intimidate people and you're not going to bother them'."