Wilson says McArdle would not meet adviser review terms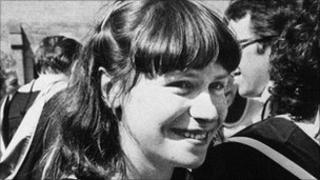 Finance Minister Sammy Wilson has said Mary McArdle would not qualify as a special adviser under the criteria drawn up in his review of those roles at Stormont.
Mr Wilson was asked by First Minister Peter Robinson to undertake the review.
It followed the controversial appointment of Ms McArdle as a special adviser to Culture Minister Caral Ni Chuilin.
Ms McArdle was convicted of the IRA murder of Mary Travers in 1984.
Mr Wilson said that under the review there would have to be a "proper audit trail" as to how people were shortlisted.
He said ministers woud have to justify why they had chosen the special adviser "in light of the work they have to do and the qualifications and abilities of the individual".
Mr Wilson also said there would be a vetting procedure by human resources in which candidates would have to meet the qualifications "that civil servants of that grade would normally have to meet".
"Under the vetting procedure, she (Mary McArdle) would not have met the requirements," Mr Wilson added.
"She would not have met the security requirement that would have been required to get into that level of the civil service.
"For that rank in the civil service anyone who has been charged with violence, dishonesty, and endangering life will not qualify."
Mr Wilson said there would be a right of appeal and people would have grounds on which they could appeal.
He said he was looking at the legal situation as to whether the criteria could be applied retrospectively.
"It is difficult to apply these things sometimes retrospectively, but I would like it to be retrospective because I would like it to deal with the particular problem which has caused so much public concern," he said.
Mr Wilson said NI Executive ministers would have the opportunity to view the report and discuss it.
Sinn Fein has accused Mr Wilson of breaking the ministerial code.
It said he had made public his review before the executive has considered his findings.
The review would need the support of Sinn Fein to come into force, something which is unlikely to happen.
'Tragic mistake'
In her only interview since the row began, Mrs McArdle said she regretted the murder and that it was a "tragic mistake" - comments rejected by the Travers family.
Deputy First Minister Martin McGuinness indicated that Sinn Fein would not reconsider the appointment.
He said that the killing of the magistrate's daughter was "wrong" and "should never have happened".
But he said those who were part of conflict needed to be part of building a new society.