Roslea Orange hall destroyed in arson attack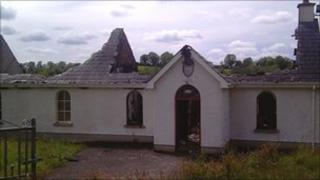 A fire which destroyed an Orange hall in County Fermanagh was arson, the police have confirmed.
The blaze at Inver Orange Hall in Roslea started in the early hours of Friday morning.
The alert was raised after a woman who lives nearby saw the flames at about 0600 BST.
It is thought the blaze started in a lean-to shelter housing an oil tank. The flames caught the roof and the building was engulfed.
The hall was attacked last October. A kitchen door was damaged and was due to be replaced on Friday.
Local people said they were determined to rebuild the hall after the latest attack.
PSNI Superintendent Simon Walls said it was an attack on everyone in the area who used the hall.
"We would ask that cool heads would prevail at this time and there would not be any escalation or tit-for-tat action," he said.
"Reprisals are not the way forward. They only result in raising tensions among communities, as well as depriving local people of facilities."
Ulster Unionist Harold Andrews said the hall would be missed. "It is going to be a serious loss for the Protestant community," he said.
"It is used by a wide range of Protestant people in the area. There is a very successful ladies' group with 24 or 25 members; also the Orange lodge, the local band and a few other organisations."