Star turns for Hollywood costumes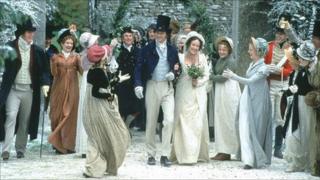 A touch of Hollywood glamour will grace the Ulster Museum in the summer with a new exhibition of stars' costumes.
STARSTRUCK will feature 50 of the world's most filmed and photographed costumes worn by famous stars of television and the big screen.
Visitors can see the famous shirt worn by Colin Firth when he plunged into the lake in Pride and Prejudice.
The exhibition also features a series of wedding dresses worn in films by Jennifer Ehle, Meryl Streep and Helena Bonham Carter.
The special dress designed to keep a pregnant Madonna comfortable when she played Eva Peron in the film, Evita, is also on display.
Highlights include many of the costumes from Bafta and Oscar award-winning films and television dramas such as The King's Speech, Downton Abbey, Shakespeare in Love, The Duchess, Evita and Dangerous Liaisons.
Visitors can see the little kilts worn by the young actresses who played Princess Elizabeth and Princess Margaret in The King's Speech.
The film makers got special permission to wear the tartan which is exclusive to the Royal family.
Kim Mawhinney, Head of Art for National Museums Northern Ireland, said: "The star quality of the clothes cannot be underestimated.
"Costume plays a critical role in the success of any period drama or film. It helps engage the audience, introduce the characters and their lives.
"The Ulster Museum is a perfect venue for this spectacular exhibition given museums play such an important role in the historical accuracy of these costumes."
Among the wedding dresses, Ms Mawhinney selected the one made for Helena Bonham Carter in Kenneth Branagh's adaptation of Frankenstein.
"It is really, truly a magnificent dress. The quality of the embroidery and attention to detail is just stunning," she said.
Other highlights include Heath Ledger and Sienna Miller's costumes from Casanova, Drew Barrymore's fantastical outfit from Ever After: A Cinderella Story and the sheer elegance of the daughters' dresses from the Bafta award winning Downton Abbey.
Tim Cooke, director of National Museums Northern Ireland, said: "This special exhibition offers a rich spectacle, displaying costumes to impressive effect and allowing visitors a first-hand encounter with the sometimes simple and the sometimes spectacular circumstances in which they were worn."
STARSTRUCK opens to the public at the Ulster Museum from Friday 1 July. The museum is open between 1000 BST and 1700 BST from Tuesday to Sunday.
The exhibition costs £3.50 for adults and £3 for under 18s and concessions. Family tickets are also available. To find out more visit www.nmni.com.