Belfast man jailed for stabbing friend three times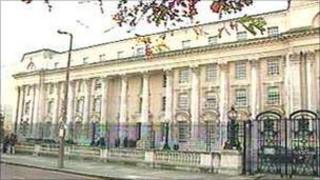 A man who stabbed his friend in the neck three times but said he "regretted not doing it a fourth time" has been jailed for 21 months.
Peter McFadden, 37, pleaded guilty to wounding Joseph Keelan with intent to cause grievous bodily harm.
The attack took place at McFadden's flat on the Ormeau Road in Belfast on 3 November 2009.
He also admitted to two other charges of drink driving and causing criminal damage to a police car.
Belfast Crown Court heard that the defendant and Mr Keelan were drinking and listening to music in the apartment when Mr Keelan made a comment about musicians being "half castes".
Prosecuting lawyer Douglas Edmondson told the court that McFadden "took particular personal injury to this because his two daughters were from a part-coloured background".
Mr Edmondson said the defendant left the room, but came back armed with a kitchen knife and stabbed Mr Keelan in the neck three times.
He then wrapped a towel around his victim's neck and left in a car, but was stopped by police a short time later and breathalysed.
McFadden told police officers he was the one being sought for a stabbing and commented that he "regretted not doing it a fourth time because he felt his children were being insulted".
Mr Keelan was taken to hospital where he was treated for his wounds, which were not life-threatening.
Defence QC Barra McGrory said it was clear that McFadden, who was transferred from Maghaberry Prison to a medium security psychiatric unit, had mental health and personality issues.
The court heard that a detailed care package comprising accommodation, medication and supervision elements had been put in place for him.
When sentencing McFadden, Judge Tom Burgess ordered that he spend 21 months in custody and 28 months on licence.
He said that with time spent on remand being taken into account McFadden could be freed in a month.
The judge said there had been recent substantial improvement in McFadden's condition, but that any breach of licence conditions "will result in a return to custody".
As well as a total jail term of four years, McFadden was banned from driving for three years.