Not your average day job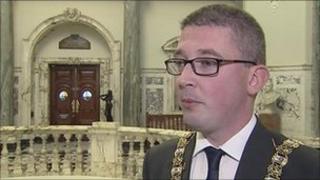 Sinn Fein's Niall O Donnghaile only became a councillor in the May local government elections, but his party then elevated him immediately to the top civic role in Belfast. BBC Northern Ireland Policitical Editor Mark Devenport spent a day with the city's youngest ever Mayor.
Niall O Donnghaile was elected as lord mayor just a few days before his 26th birthday - a rather rapid rise to prominence.
Since then he has been embroiled in controversy over the symbols on display at the City Hall and played a frontline role trying to prevent recent rioting around his home patch in east Belfast.
One of the fringe benefits of being the mayor of Belfast is you get a smart official car. But one of the drawbacks is your day starts early and finishes late.
It's 8am and Niall O Donnghaile is arriving at City Hall for his first engagement, a breakfast seminar on the economic development of Belfast.
He poses for pictures with the guest speaker and the DUP chair of the city's development committee. Then he greets the audience of business people and others likely to influence the future shape of the city.
The morning is fairly non-stop. There is a meeting with his key staff, then a formal welcome for a delegation from the once war torn Balkan country of Kosovo, headed by the country's deputy prime Minister.
As he makes his way to and from functions, the mayor passes a group of young people preparing for the annual general meeting of the Northern Ireland Youth Forum.
If things had worked out differently, instead of taking on and off his chain of office, the 26-year-old mayor could have still been a member of the forum, which lobbies to ensure adult decision makers understand the views of young people.
Instead he is one of those decision makers.
'Fresh air'
The vice chair of the forum Alex Huston has mixed views on the appointment. "Young people can connect with him more. The other side of it is he only came into politics as a councillor in May and now he is the mayor. I think he needs a bit more time in the council chamber," he said.
One veteran unionist councillor, Hugh Smyth, joked that he owned overcoats older than the mayor.
Mr Huston allows himself a chuckle, but does not seem impressed by the message, countering that "you go into our council chamber, it is full of old men in suits. We need to change that. I'll give Niall O Donnghaile that."
The Sinn Fein mayor stirred controversy by taking down pictures of the Queen Mother and Prince Charles from the wall of his parlour and replacing them with the Proclamation of the Irish Republic made during the Easter rising.
Predictably unionists like the DUP's Christopher Stalford were not impressed.
Alderman Stalford said that people might talk about the mayor as a breath of fresh air, "but you are not a breath of fresh air when you go in and start throwing pictures out of your parlour because they happen to be members of the royal family.
"Young people can espouse old attitudes," said the alderman, who is himself only 28.
But the mayor is unapologetic, pointing out that he left other pictures of the royal family in place in the parlour.
He said his DUP Deputy Mayor, Ruth Paterson, has not talked to him since his appointment - a wall of silence he did not erect.
The mayor said he himself was surprised to be chosen at such a young age and such an early stage in his council career.
I raise with him the criticism that his behaviour is in fact quite traditional, in contrast to someone like the golfer Rory McIlroy, also in his 20s, who appears keen not to be defined by either his religion or nationality.
Not unreasonably Mayor O Donnghaile counters that he is a politician, not a sportsman. "This role is a political one, it is a civic one and I am unashamedly an Irish republican."
Both the mayor's parents were IRA prisoners and he said he was "born into a republican family but not indoctrinated into republicanism." Instead he remembers formualating his views in a house filled with lively debate around the dinner table in which different opinions were encouraged.
Pride
The big item on the mayor's Tuesday agenda is a visit to east Belfast by the Irish president Mary McAleese. That would be significant at any stage, but it is all the more so in the wake of the recent trouble.
President McAleese had scheduled a visit to a regeneration project on the loyalist side of the peaceline. But following last month's riots she has added a stop in the mayor's home patch of Short Strand. In the local community centre the president is a big draw, but there is no doubting the affection for the local boy made good.
Imelda Duffy knew Niall O Donnghaile when he was a toddler. "He was always a nice lad and he's still a nice lad," she said. "He is very, very friendly. He could be anyone's grandson and we are all very proud of him here."
The mayor welcomes the president, and points out that her husband Senator Martin McAleese hails from the same neighbourhood.
The VIPs then chat to local residents whose homes were damaged in the rioting. Next Mayor O Donnghaile proves his mettle by accompanying the president across to the other side of the peaceline - somehere it would have been dangerous for him to tread just a few days earlier.
Later that afternoon the Mayor and President head to a gaelic club in west Belfast.
Mayor O Donnghaile's day is still not much more the halfway done - with engagements at a photo festival and a plumbers' award ceremony still to fulfill the city's youngest mayor won't be home until late into the evening.