Audit office 'concern' over payments granted by OFMDFM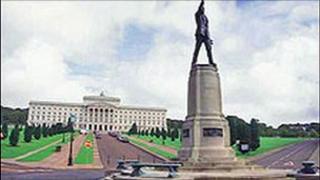 The audit office has expressed concern over "deficiencies and inconsistencies" in payments granted by the Office of the First and Deputy First Minister.
The contracts in question relate to the regeneration of the former Maze Prison site and the three smaller projects and total more than £7m.
On the Maze the auditor said the office exceeded a limit of spending approved by the Department of Finance of £3.5m.
It ended up entering into a contract for nearly £5m.
He said he could not sign off on the financial transactions.
And the auditor asked why lessons that should have been learned in the past to avoid such difficulties had not been acted upon.
It is understood the Finance Department has now authorised an increase in the cost of the Maze project from £5m to £6m.
The committee which oversees the work of the Office of the First and Deputy First Minister has been recalled next week to discuss the report.
Its chairman, Ulster Unionist leader Tom Elliott, said the report will cause great concern to anyone who cares about how public money is spent.
He added that he was concerned the report had been issued on the day Stormont rises for the summer recess.
"It is something we were not aware of and it calls into serious question the department's accounting process," he said.
"All the committees at the assembly have a scrutiny role and it is vital that we take that role seriously and I would be neglecting my position if I were not to give people the information, and then it is up to the committee to decide if they want to take it any further."
A spokesman for OFMDFM said: "The department takes this situation very seriously and immediate action has been taken to address the issues identified."