Fire in dining room at Roe House in Maghaberry jail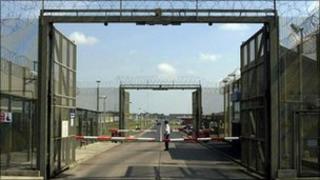 There has been a fire in the dining room at Maghaberry Prison in County Antrim.
The Fire and Rescue Service were called to deal with the blaze in Roe House around 1730 BST on Friday.
It has not yet been confirmed how the fire started. It is the second blaze at the prison in recent weeks.
Fire crews dealt with a small fire which was started in a recreation room in Lagan House on 21 June.