Irish government won't 'hinder' Breen/Buchanan inquiry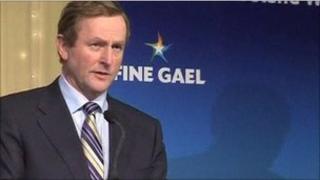 The Irish government has said it is not attempting to hinder an inquiry into allegations of IRA-Garda collusion in the murder of two RUC officers.
Taoiseach Enda Kenny moved to assure relatives of the two men following a row over an autumn deadline for the Smithwick Tribunal.
He said if more time was needed then those requests would be examined.
His comments follow a call by the Irish justice minister for the tribunal to complete its work by November.
"We want to see a situation where tribunals are enabled to do their work completely independently that they don't have to continue indefinitely," the taoiseach said.
"If the Smithwick tribunal comes back to the Dail or the government and says for these reasons we cannot conclude our hearings when it was intended, the Dail will obviously react to that.
"There is absolutely no intention whatsoever on behalf of the minister for justice (Alan Shatter) or on behalf of the Government of attempting in anyway to hinder the work of the Smithwick Tribunal."
The tribunal, established in 2005, is investigating allegations that Garda officers in the Republic or a civilian in the force colluded with the IRA in the murder of two of the most senior officers killed in the Northern Ireland Troubles.
Superintendent Bob Buchanan was murdered along with colleague Chief Superintendent Harry Breen near the border after a meeting at Dundalk Garda Station in March 1989.
In a series of letters over the past few weeks, tribunal chairman Judge Peter Smithwick told the minister the controversial and unexpected declaration of a deadline threatened the entire investigation.
John McBurney, solicitor for the Breen family, said they were offended by a statement from Mr Shatter that he was concerned about relatives as he pushes for quick completion.
"I have a worry that if the matter is to be too severely rushed that it's going to put so much pressure on all concerned that items may be missed or that documents that needed to be followed up, there might simply not be time to achieve that," the solicitor said.
"But there does not seem to be a wholehearted approach from the direction of the Government attitude towards it and I find that completely inexplicable.
"It doesn't seem to be the position being adopted in relation to the Mahon Tribunal, which has lasted 13 years and at very considerable extra cost in comparison with this tribunal."
Judge Smithwick has warned witnesses are reconsidering their co-operation with the inquiry following the row over a deadline, including one important witness from outside the State whose co-operation took some time to secure.