Henry sisters return to Belfast to honour their sister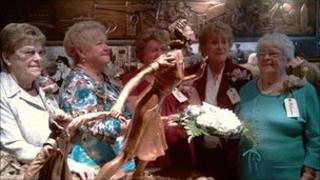 Five sisters evacuated from Belfast after the 1941 Blitz have returned to their home city to honour their sister who died during the Luftwaffe attack. BBC Radio Ulster reporter Karen Atkinson went to meet them and to hear their story of tragedy and survival.
Imagine leaving your home, your city and your old way of life behind for good? That's what happened to the Henry sisters back in 1941.
Easter Tuesday of that year was one of the most devastating chapters in Northern Ireland's history when hundreds of German air force bombers attacked the city of Belfast, killing nearly 1,000 people and injuring many more.
For others - especially women and children - there was the upheaval of being evacuated to a place of safety.
For the Henry sisters - Patricia, Peggy, Philomena, Brigid and Mary - that place was Dublin.
Bombing
But a family tragedy meant they were leaving without one of their own, as Mary remembers.
"Our sister Susan, who had been staying with relatives in Dublin, left there on 15 April 1941. She travelled back to Belfast, just hours before the blitz happened. My aunt Mary met her at the train station in Great Victoria Street, they went back to Mary's house and while they were there, the bombing started."
Both women died, a loss compounded by the fact that their bodies were never found.
"We were told that they might have been buried in a communal grave in west Belfast," Mary said, "but we don't know for certain."
At that time Belfast wasn't a safe place to be and so, like many others, the Henry sisters, their young brother and their mother gathered what belongings they had and boarded the train for the Irish capital.
Peggy and Philomena recalled that day.
"We went to the Falls Road and all our things were put in a lorry. We were then taken to the train station and when we arrived in Dublin all we remember is the long railway platform, and at the end of it a Red Cross ambulance. Things were very different."
Memories
More tragedy was to befall the sisters when, six months after Susan's death, their three-year-old brother Patsy died in an accident.
Sixty years on, these memories are still vivid.
Although the Henry sisters made new lives for themselves in Dublin, they have been frequent visitors back to Belfast.
Their return to their home city this time round was to pay tribute to Susan and to lay a wreath in her honour at Belfast's War Memorial Museum.
"The wreath has a photo of Susan and it's just luck that we got it," Brigid said. "Peggy had it originally and it's the only one we have of Susan.
"It just means she is here with us on what has been an emotional, but lovely day."
The events of Easter Tuesday 1941 may have changed the lives of these five women forever, but their resolve not to forget their sister remains undiminished.