Newspaper review: NI and Republic of Ireland stories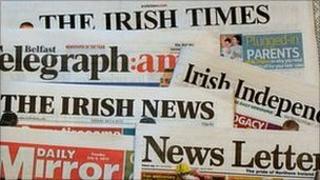 Journalist Keith Baker takes a look at what is making the headlines in Monday's newspapers.
The Irish News front page has a picture of a Falls Road barman, Rocky Morgan. He was one of several local people who helped tackle a couple of robbers armed with knives and a baseball bat when they terrorised staff at a pharmacy last week.
The newspaper says shop workers and local residents sprang into action when they saw what was going on.
Mr Morgan tells the newspaper that the attack was one too many and people are fed up.
The Irish News has its own thoughts. It says the Lower Falls has been plagued by criminal activity. Ultimately, it says, only the legitimate authorities can deal with incidents of this nature but it is still possible to express admiration for the people who tried to take on the enemies of their community.
The News Letter talks to the DUP MLA whose car was burnt out in an arson attack at his home in Cookstown. The newspaper says Ian McCrea has appealed that there should be no retaliation.
The report notes that he caused some controversy last week over Twitter remarks about GAA results. Martin McGuinness said he was portraying himself as a sectarian bigot.
In the News Letter Mr McCrea said: "If you want to see sectarian bigotry, come round to my house and see my car."
The Belfast Telegraph focuses on the practice of insurance firms in Northern Ireland selling motorists' details to third parties.
The newspaper has been talking to the justice committee chairman Paul Givan. He says insurance firms should be banned from doing this.
It has emerged that the recent 40% hike in insurance premiums has been heavily influenced by claims from management firms and personal injury lawyers who buy names and encourage accident victims to make claims.
The Belfast Telegraph says 12 times more car insurance cases end up in court here compared to Great Britain.
Compensation for a neck injury can reach £265,000, whereas in the rest of the UK the ceiling is £86,000.
In the Dublin newspapers, the Irish Independent covers the story about a missing post office manager and a suspected 1.7m euro (£1.4m) fraud.
His family have been speaking to the newspaper and they say he has a gambling addiction.
He was tracked down in Belfast on Saturday when he placed a winning 40,000 euro bet on an odds-on shot to win 27,000 euros.
His family say his gambling has been secretive and had spiralled out of control. They say he is now undergoing medical treatment.
In other newspapers, the most photographed sports personality of the day is Novak Djokovic, followed closely by Rory McIlroy.
The new Wimbledon champion is on the front of several papers in the traditional pose, kissing the trophy.
The newspapers also note that he had a more individual form of victory celebration - eating a few blades of the Centre Court grass.
The Sun headline reckons this makes him a "Chompion".
The Daily Mirror refers to Rory McIlroy as "Jet set Rory". It says his lifestyle has gone into overdrive since he won the US Open.
You can see more about his life over the past few weeks in a BBC Northern Ireland documentary on Monday.
The Times notes that Rory was at Wimbledon to support his friend Rafa Nadal. On Friday he had backed his friend Andy Murray to beat Nadal. Yesterday he had just been to Hamburg to support his friend David Haye.
The newspaper says with a track record like this he might find himself losing friends soon.