Over 4,000 NI pupils are affected by exam errors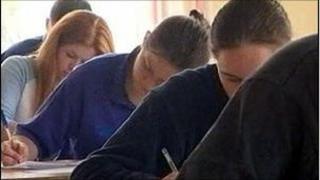 Over 4,000 pupils have been affected by errors in examination papers this summer in Northern Ireland.
Education Minister John O'Dowd provided the information in response to a written assembly question from Sinn Fein's Michaela Boyle.
The 10 reported incidents involve mistakes from a number of awarding bodies.
They included three from award body OCR, two from CCEA, four from AQA and one from Edexcel.
Almost 3,000 Northern Ireland pupils were affected by a blunder in one cell of a table of data in a GCSE business studies exam.
In another AS business studies exam, candidates were not given a profit figure to calculate a question. The inaccuracy affected 41,612 students, 738 of which were from Northern Ireland.
An "unfortunate error" was blamed for maths students also being set a question that was impossible to answer in an AS-level exam set by the OCR exam body at the beginning of June.
Another GCSE Latin paper contained a total of three errors all involving the use of an incorrect name.
Ms Boyle has said it was imperative that the mistakes in exam papers this year are never repeated again.
"These questions that were impossible to answer caused stress and anxiety amongst the student population," she said.
"Many students spent more time attempting to answer these questions than they normally would so it may have cost them time in answering other questions and therefore impacted in their overall grade.
"Exam time is very stressful for students at the best of times without being faced with questions that can't be answered so it is imperative that these mistakes do not happen again."
Mr O'Dowd said: "Awarding bodies have procedures in place to ensure that marking is fair to all candidates and the qualifications regulators have emphasised to the awarding organisations that no candidate should be disadvantaged by errors within papers."
CCEA regulator for Northern Ireland, Roger McCune has previously said the errors in papers across the five awarding bodies were "disappointing and unacceptable".