Huston: 'Public bodies not representative of NI'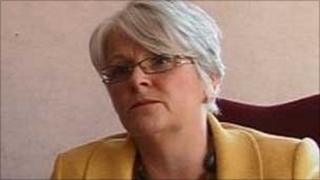 Northern Ireland's public bodies are not representative of what the country looks like, according to the public appointments commissioner.
Felicity Huston said: "Things could be better. I think we have a problem with the self-perpetuating nature of the public appointments system".
Mrs Huston steps down from the role at the end of the month after six years.
She said there were difficulties asserting her role as a regulator at Stormont.
"People recruit people who look like them, sound like them and have the same life and work experiences," she said.
The commissioner said there were other issues about the independence of her position.
"The International Ombudsman's Organisation wouldn't recognise my office by their standards as independent as I don't have proper control of my budget, I don't have my own staff and I am subject to the same cuts as other civil servant departments."
When asked about meetings with the civil service head, Sir Bruce Robinson, Mrs Huston said she asked to see him when he was appointed and had a meeting.
She said: "Since then, we have exchanged communications but haven't met. I think that it is a bit of a gap which should have happened."
Mrs Huston's successor's job description and hours were drawn up without reference to her experience in post.
She said: "It does seem a bit strange not to come and discuss with the job-holder - who has been there for six years - what the job involves before you write the job specification.
Despite her criticisms, the commissioner said that there was now less confusion over which public bodies should be regulated by her office.