Paramilitary watchdogs IMC and IICD issue final reports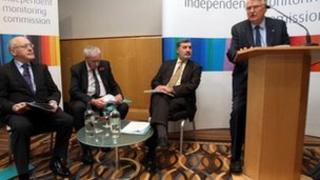 The watchdogs that oversaw the winding-down of paramilitary groups in Northern Ireland have published their final reports.
The Independent International Commission on Decommissioning (IICD) stewarded the dismantling of illegal arsenals.
The Independent Monitoring Commission reported on paramilitary activity.
The British and Irish governments said the groups had helped to deliver historic change.
The two groups were dissolved at the end of March.
In its final report, the IMC said in the seven years since it was set up there had been 21 paramilitary murders and more than 800 "reported casualties of paramilitary violence".
"The position as we close is very far from ideal, as we described in our most recent report," it added.
"Dissident republicans are brutally active, especially against members of the Police Service of Northern Ireland (PSNI) who are at greater threat than they were in 2004 when we first reported.
"One result is that whereas when we started we observed a scene from which terrorism against the organs of the state had largely disappeared, as we close we see classic signs of insurgent terrorism, albeit confined to the narrow dissident front and quite unlike the Troubles in its intensity or, we believe, its potential.
"Members and former members of all paramilitary groups remain very active in non-terrorist types of crime - a bequest from the Troubles which will dog Northern Ireland for years and will require a substantial continuing effort from law enforcement agencies."
The IMC said neither of the main loyalist groups had been able to articulate clearly how they want to move forward and "in contrast to the PIRA" were finding it difficult to contemplate going out of business.
The Independent International Commission on Decommissioning (IICD) said it had examined the possibility of opening discussions with dissident republican groups such as the Real IRA and Continuity IRA about decommissioning their weapons.
"We have also made public our readiness to open such discussions," it said.
"We were unsuccessful in doing so and the decommissioning of the arms of those organisations remains outstanding."
It said a full inventory of arms decommissioned by paramilitaries during the peace process would not be made public.
That was criticised by First Minister Peter Robinson.
"People will want to see just what has been achieved by the IICD in regard to putting the arsenal of illegal organisations beyond use.
"The public has a right to know what has been achieved and I would urge the secretary of state to ensure the inventory, which should have been passed to our government and the government of the Irish Republic is published," he said.
"Only a week or so ago we witnessed guns being used on the streets of Northern Ireland.
"People will be naturally nervous that such arms are still in circulation and it is up to the government to justify their decision to abolish the body responsible for dealing with these issues."