New NI justice powers disappointing says Tony Caher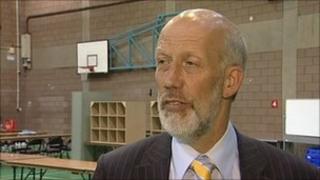 The first justice powers created in NI in over 40 years are disappointing, a legal expert has said.
Tony Caher said Northern Ireland's institutions were "creaking".
"There are compelling issues to be addressed by the new justice minister. I do not think this begins to address the major concerns that everybody involved has," he said.
Justice Minister David Ford launched the provisions under the Northern Ireland Justice Act 2011.
Under the new laws, the maximum sentence for common assault will increase from three to six months.
There will also be an increase in the deferred sentence period from six to 12 months.
Mr Ford said the new laws were an important part of his "programme to reshape the justice system".
But Mr Caher said the changes were neither dramatic nor groundbreaking. Public sentencing guidelines would be helpful, he said.
"One of the great problems is that people feel there is inconsistency in sentencing," he said.
"Public sentencing guidelines would instil confidence."
Penny Holloway, whose son Thomas Devlin, 15, was stabbed to death in north Belfast in 2005 welcomed the changes. She said it was "a useful start".
"The sentencing for knife crime has been changed in England and Wales and I think there is an opportunity to do something about that," she said.
"The maximum sentence is 25 years in England and 15 years here. That could have been brought in without too much difficulty."
Ms Holloway said public confidence in justice stood at 24%.
"Clearly there is a great deal of work to be done to increase that figure," she said.
Other new measures introduced under the new legislation include strengthening powers for sex offender who breach the terms of their licenses and additional offences to which financial reporting orders (FROs) can apply.
There will also be an extension of live link provisions for "vulnerable accused and mentally disordered offenders".