Derry man banned from public parks and swimming pools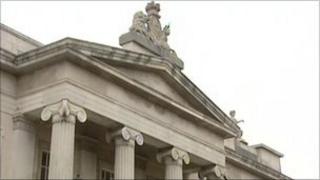 A 68-year-old Londonderry man charged with exposing himself to a woman and her two young children has been released on bail.
Frank Callaghan, of Glenbank Road appeared at Londonderry Magistrates Court on Monday.
The incident is alleged to have happened in Brooke Park on 3 July.
The court was told the woman was walking with her children, when she saw the defendant sitting on a bench.
It's alleged he commited an indecent act while looking at the woman's daughter.
The woman told police when she looked back, he was still commiting the act.
The court was told that when police arrived, the defendant's trousers were still undone.
A defence solicitor said that his client had a clear record and he was a recovering alcoholic.
District judge, Barney McElholm, said it was a very serious allegation but he released Mr Callaghan on £500 bail as he had no previous records.
He warned him the places he was not allowed to attend includes swimming pools and play parks.
Mr Callaghan is due to re-appear in court in August.