Red Kite triplets 'a first' for Northern Ireland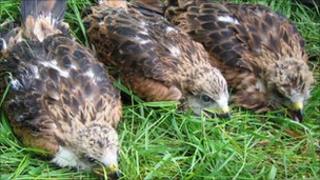 The first set of Red Kite triplets has been recorded in Northern Ireland.
Red Kites successfully bred in NI's forests last year after an absence of 200 years.
Once widespread across Europe, the birds have suffered from persecution, including shooting and poisoning.
Royal Society for the Protection of Birds (RSPB) red kite monitoring and outreach officer for NI, Adam McClure said: "At the beginning of the spring it appeared as though we would have nine pairs of Red Kites breeding in Northern Ireland this year.
"Unfortunately four were unsuccessful due to the storms that swept the country in May, but we are delighted that the five remaining pairs have successfully fledged eight chicks from sites across County Down, including a nest with triplets, another first for Northern Ireland."
Last year, four Red Kite pairs raised five chicks and Mr McClure said the increase this year had delighted everyone involved with the project.
All the new chicks are identifiable by individual wing tags which were fitted while they were still in their nests.
Special licences are required to approach the nests of the protected birds and a trained team of RSPB staff and volunteers accessed the nests using climbing techniques mastered by tree surgeons.
As each chick has been given a unique set of numbered and coloured wing tags, staff and volunteers will be able to keep an eye on individual birds and monitor their progress as they explore the Northern Irish countryside.
RSPB is offering schools from across Northern Ireland the opportunity to adopt one of the new chicks.
"Through the Adopt-a-Kite programme, we can raise awareness of Red Kites and educate and inspire young people, not only about these wonderful birds of prey, but about nature and biodiversity in general," Mr McClure said.
Anyone considering adopting one of the Red Kite chicks or who wants to learn more about the project can contact the RSPB in Belfast on 02890 491547.