The dangers of instant messaging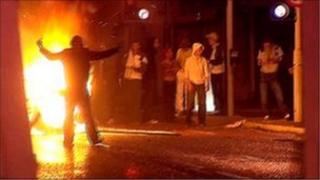 So the Orange Order has blamed last Friday's mini-twelfth riots in east Belfast on the "MTV generation".
This is a reference to the involvement of young people who had taken too much alcohol, and a jibe at the music channel's preference that bars should be open when the guests spill out late at night from its music awards ceremony in the Titanic Quarter later this year.
There's no doubt that drink fuels a lot of the senseless violence on display on our streets over the summer.
However, it seems a mite harsh to blame MTV. If my memory serves, the channel wasn't on air back in 1795 around the time of the Battle of the Diamond.
Even without the benefit of wall to wall "low blows and video hoes" (to borrow a phrase from the teetotal Jessie J), the Peep O'Day Boys and the Defenders seemed to muster up the enthusiasm for just as much - if not more - "wrecking" as their successors in today's east Belfast.
Still it's good to see the order is keeping up with the times, just like our politicians with their tweets and blogs.
The Stormont executive did its best to put Twitter centre stage by tweeting out the parties' choices of departments as they happened. But now the DUP's Ian McCrea has demonstrated the danger of the instantaneous "tweet".
Mr McCrea tweeted that he hoped his local Tyrone GAA team would get knocked out of the championship, to save the cost of local celebrations. His critics derided his views as sectarian.
Nothing can excuse the actions of those who set fire to Mr McCrea's car. Like Voltaire, every democrat should defend his right to say whatever he wants to about the Tyrone GAA team.
However, it's reasonable to guess that if the Mid Ulster MLA had summarised his sentiments in the form of a news release the DUP press officer would have advised him to sit on it.
Mr McCrea joins a long list of people with reason to regret their choice of 140 characters, headed by the trainee accountant fined for threatening to blow an airport up: Twitter disasters
Of course Twitter isn't the only medium whose instantaneous nature can prove extremely dangerous.
Last month an unemployed Chef was convicted of posting menacing messages about the East Londonderry MP Gregory Campbell.
On the Devenport Diaries I documented how local politicians like Ian Parsley and Declan O'Loan had reason to regret pressing the send button on their e-mails.
As a blogger I know how easy it is to publish an unfortunate typo, or regret a foolish phrase.
A colleague thought they were sending a text message to a best friend but instead tweeted it to the wider world. Fortunately the contents were merely puzzling rather than embarrassing.
Politicians may complain that they can get criticised either way - in the past I have berated candidates for excessively bland tweets, telling no-one in particular what a good canvass they had just undertaken.
But to go to the opposite extreme, as Ian McCrea discovered, can have serious consequences.
Perhaps the only advice is to pause and think - do I really want to share this thought? Or, as I am about to, to get a colleague to cast an eye over your proposed text. If in doubt delete, and start again. Or maybe give up, turn on the television, and check what's on MTV.