NI victims of clerical abuse meet Belfast's Lord Mayor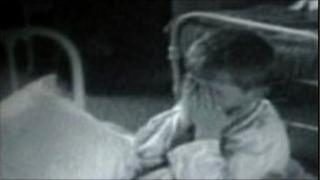 A group representing victims of clerical abuse has thanked the lord mayor of Belfast for his support after a meeting in Belfast on Tuesday.
Niall O Donnghaile met members of Survivors and Victims of Institutional Abuse, outside the former children's home, Nazareth House, on Belfast's Ormeau Road.
The group is calling for an independent public inquiry into the abuse.
Mr O Donnghaile said he supported their campaign.
In a statement issued after the meeting the lord mayor said: "Today these survivors have turned their own awful experiences as children into a powerful call for justice.
"It is a call that I heard loud and clear today and it is a call which I am happy to echo."
Inquiry
Earlier this year, the group met members of the special Catholic Church inquiry, announced by Pope Benedict to investigate abuse.
It has held meetings across Northern Ireland the the Republic of Ireland.
Last July, victims of child abuse within the Catholic Church in NI delivered a letter to the first and deputy first ministers at Stormont.
They want a compensation fund and an inquiry to be set up.
They have also called for an apology to acknowledge they were wronged by state agencies.
Peter Robinson and Martin McGuinness said they would meet them. But the victims said the Executive should be dealing with the issue more urgently.