Day of the curlew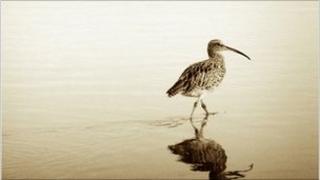 An exhibition of the photographs of Patricia Pyne is open to the public at the Linen Hall Library in Belfast until 31 August.
The Pencil of Nature:Contemporary Images that Evoke the Past, includes this photograph of a curlew.
The pictures capture wildlife through the seasons around Strangford Lough.
"I am delighted to have been invited to participate in this series of exhibitions by Ulster artists," Ms Pyne said.
"I have often reflected on similarities between the Linen Hall and that part of Strangford Lough which features in this exhibition.
"Whilst one is an historic building in the heart of the city and the other a special shoreline habitat amidst the rolling drumlins of Down, both are repositories of hidden treasures with a wonderful capacity to delight, restore and inspire the mind."