Margaret Ritchie in appeal over music licensing laws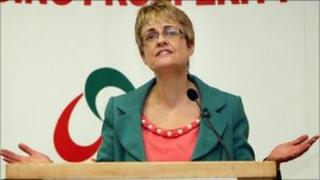 SDLP leader Margaret Ritchie has said small firms in Northern Ireland are being harmed by "complex licensing laws surrounding the playing of music".
Ms Ritchie said she had secured a debate at Westminster on Wednesday about the issue.
She is calling on the government to create a "simpler licensing regime".
Business owners currently have to pay for two licences if they want to play music in public or hold a live performance.
The amount they pay depends on the size of the business and number of staff.
Ms Ritchie, who is MP for south Down, said the regulations impacted on many small firms in Northern Ireland which were already "overburdened by government regulation and red tape".
Tourism
"As we seek to develop and grow the economy in Northern Ireland, such measures can place an undue strain on businesses that have narrow profit margins," she said.
"There is currently an exemption for organisations that employ less than four people.
"Although welcome, it's some way short of a classification that would help small and medium sized enterprises - defined as organisations which have less than 50 employees.
"In south Down, a large proportion of the economy revolves around the tourism and hospitality industries.
"The complexity and cost of requiring two separate licenses combined with an aggressive compliance regime can put undue pressure on the bars, hotels and restaurants which form the backbone of our tourism industry.
"If these establishments are forced to cease playing music, the business suffers, customers may leave."