NIFRS bonfire calls down by 60% in last three years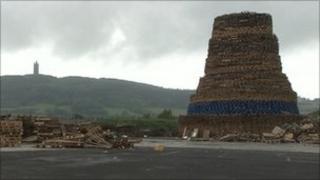 The Northern Ireland Fire and Rescue Service (NIFRS) has seen call-outs to eleventh night bonfires reduced by almost two thirds in the past three years.
Some are putting the success down to the safety message getting through.
Chief fire officer Peter Craig said: "I think it is down to education".
He said the NIFRS "are out and about engaging with the local community to explain to them the risks".
"A bonfire is dangerous. You have got to treat it with respect. You have got to consider what materials you are using to make your bonfire, consider where you will site it and keep it away from properties."
Others say it is down to the health and safety regulations they have to follow if they want council funding.
'No hazardous materials'
Ian Cox from the East End Community Association in Newtownards said the association's bonfire site was safe thanks to money received from Ards Council. The council gives £2,000 to each community group which sticks to bonfire building guidelines.
"We have to adhere to certain conditions and one of the things is no tyres and no hazardous materials," he said.
"We have maintained that over the last three years and we will continue to do so.
"The structure is safe - you can see the way it has been built.
"They try to maintain that it isn't going to collapse - it's not going to tip - it's always going to burn in, burn down."
Mark Gordon from the Kilcooley Development forum explained why bonfires on the Kilcooley estate in Bangor have not been as well-kept this year.
"Our bonfire committees in Kilcooley have pulled out of the North Down Borough Council's management programme," he said.
The bonfire organisers on this estate did not take any of the £15,600 available from North Down Council.
Mr Gordon claims the regulations the council want them to follow are unreasonable. These include restrictions on when to start collecting and on certain materials being brought to bonfire sites.
"The council are setting what we believe to be draconian measures which will eventually lead to an eradication of bonfires from this borough," he said.
"A loss of the bonfires, is as far as we are concerned, an erosion of our Protestant culture and tradition."