Search in Ballyclare for infant's body ends for day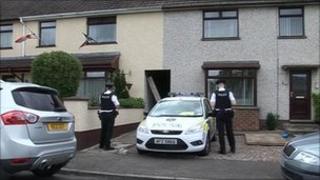 A police search at a house in Ballyclare - believed to be for the body of an infant - has ended for the day.
It is understood nothing has been found and the search will resume on Thursday.
The search was initiated after an anonymous tip-off that the body of a small child had been buried at the back of the house at Hawthorn Way.
It is understood that the person who made the anonymous call did not say when a body may have been buried there.
Police have yet to establish whether there is anything there or whether any crime has been committed.
Officers have been digging at the back of the house and are using specialist sniffer dogs.
They are being assisted by the archaeology department of Queen's University.
The search began on Monday and is thought to be linked to a previous occupant of the house.