Arson attack at David Ford's Alliance Party office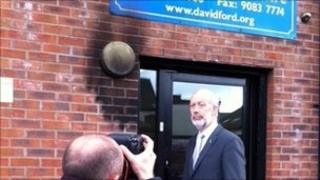 Alliance Party leader David Ford has said that an overnight arson attack on his Newtownabbey office will not put him or his staff off doing their jobs.
Flammable liquid was poured on to the building at Carnmoney Road and set on fire last night. The building suffered scorch damage.
Mr Ford, who is also the justice minister, has his party base at the Glengormley office.
No-one was in the premises at the time of the attack.
Mr Ford said: "I am always aware that in the Department of Justice I have managed to offend a number of people.
"I am not sure what anyone in this day and age thinks is served by any of these attacks.
"It's certainly not going to do anything to dissuade my staff in the work they do for the people of South Antrim."
The police have appealed for anyone with information about the attack to come forward.