Nipsa angry at McCausland Housing Executive remarks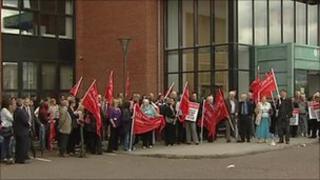 Members of the trade union Nipsa have held a lunch-time protest outside the offices of the Department of Social Development.
The union has accused Housing Minister Nelson McCausland of interfering with the Housing Executive.
He had suggested either incompetence or what he called "collusion" had been going on in the executive.
But Nipsa assistant general secretary Bumper Graham said his comments were "very serious and derogatory".
Mr Graham accused the minister of implying that people at the executive were "on the make".
"That is totally unacceptable for a minister and he has refused to release any evidence or information to that effect," he said.
Mr McCausland has defended his decision to carry out a "forensic investigation" into maintenance contracts at the executive. He said he had evidence of double charging and overcharging.
He also rejected allegations that the DUP had any social connections with the owner of Red Sky.
Last week he reinstated a contract with the maintenance firm until a new system for awarding contracts is put in place.
The Housing Executive ended its £8m repairs contract with the Belfast firm in April following overcharging allegations.
Shortly after the contract with the Housing Executive ended, the firm went into administration.
TUV leader Jim Allister called on the minister to explain any history of involvement between his party and the owner of Red Sky.
He asked: "How many senior DUP personnel, including ministers, have attended private dinner parties in the home of the owner of Red Sky? Why the intense interest in the highest echelons of the DUP in Red Sky being reinstated with the Housing Executive?"
In response, Mr McCausland said: "I can state categorically that I have no connection with any individual with that company or any other contractors.
"To the best of my knowledge, I have no knowledge of people being at dinner parties, but even if people are at somebody's house for a dinner, what do we read into that?"
The minister said he stood by his decision to ask the Housing Executive to extend its contract with Red Sky, despite criticism from his predecessor Alex Attwood who had terminated the contract.
Mr Attwood said he took the decision after "a fully independent and forensic investigation".
"I am taken aback that less than two months after becoming social development minister, the new minister has instructed that the Red Sky contract is reinstated and extended," he said.
Mr McCausland said he had extended the termination date of Red Sky's contract, which was due to end on 14 July, to enable a new procurement competition to be put in place.
"You have to ensure that you have a continuity of service," he said.
"I felt that was the appropriate way forward rather than hand the contract over to an adjacent company."
The housing body held an emergency board meeting on Tuesday morning to discuss the minister's request to overturn its decision to end its contract with Red Sky.
It described Mr McCausland's intervention on the issue as "incomprehensible".
The Stormont executive is due to discuss the matter during a meeting on Thursday.
On Tuesday, Mr McCausland said he had "clear evidence" that contractors were double charging or over charging for work in more than one Housing Executive district.
"The fact they took place in a number of areas with a number of companies suggests this was something more than just an occasion blip or an accident," he said.
"There was a pattern that seemed to be emerging and I want to get to the bottom of that."