Education Board facing 'challenging' financial position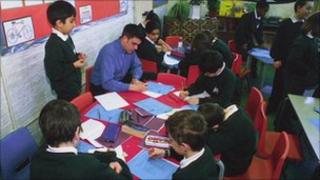 The Western and Education Library Board has said it is facing its most 'challenging' budget in twenty-five years.
The board estimates schools will have to make savings of £300m.
The WELB is responsible for the provision of education services in counties Tyrone, Fermanagh and Londonderry.
The board's assistant chief finance officer, Stan McIvor said plans to build new schools could be affected.
There are three new primary schools proposed for Co. Derry.
The plans for Ebrington, Eglinton, and Newbuildings are on the Department of Education's capital approved list.
A replacement school in the Belmont area of the city has also been approved.
Difficult position
Mr McIvor said it now looks unlikely the schools will start over the next three years.
"There simply is not the funding available for the Department of Education to release funds to the Western Board to make on start on these four schemes in the current financial year.
"Looking forward to the next year and the following two years, the capital position is very difficult indeed.
"From a board perspective, while we can take the projects forward through the planning stage, we cannot take the final step of entering into contracts for new builds" he said.
Mr McIvor said front-line services could also suffer over the next four years.
"As the financial position tightens and clearly it has tightened, that is going to produce a greater challenge for schools to manage within reduced allocations."