Coroner warns no-show witnesses at Strabane inquest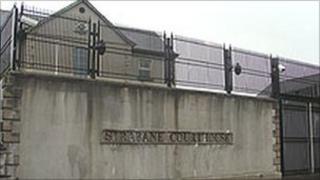 A coroner has issued a warning after three witnesses failed to turn up at an inquest on a Strabane man who died from a drug overdose.
Brian Sherrard said anyone called to give evidence but who failed to turn up could be held in contempt of court.
He was speaking at the inquest on 21-year-old Michael Leitch.
The Irish army soldier, from Lisnafin Park, died from a cocaine overdose following a house party in Portstewart in December 2009.
The court was told that Mr Leitch had travelled to the north coast with friends.
They had been drinking before going to a nightclub in Portrush.
'Fatal mistake'
One witness described how she saw Mr Leitch acting "weird" in the hours after they returned from the nightclub and he climbed into a cupboard in the living room.
After he was helped from the cupboard, the witness said Mr Leitch started "fitting".
She said she heard someone else say they saw Mr Leitch eat 3g of cocaine.
Mr Leitch was taken to the Causeway Hospital in Coleraine but he never recovered from the effects of the cocaine and was pronounced dead three days later.
The coroner said he found Mr Leitch had suffered cerebral hypoxia caused by an overdose of cocaine.
He said he wanted to remind people of the risks they faced when taking illegal substances and that they could be making a fatal mistake.