Owen Paterson calls for restraint ahead of parades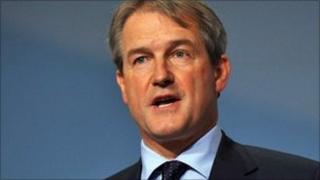 Secretary of State Owen Paterson has appealed for people in Northern Ireland to show restraint ahead of contentious parades taking place in the next week.
Last year, there were several days of rioting after a loyalist 12 July parade passed Belfast's Ardoyne area.
Speaking in the House of Commons, Mr Paterson also said the threat from dissident republicans remained severe.
He would not comment on the involvement of paramilitary organisations during recent rioting in east Belfast.
He said it would be unwise to do so as a PSNI investigation was under way.
Police had previously blamed the loyalist Ulster Volunteer Force for orchestrating some of the violence.
The secretary of state was asked by Strangford MP Jim Shannon about the decision by the International Independent Commission on Decommissioning (IICD) not to publish an inventory of paramilitary weapons which had been destroyed.
Mr Shannon said "people have a right to know what has been destroyed".
However, Mr Paterson said "if it is the commission's decision that to publish would not be helpful, then we have to accept their advice".