East Belfast riot: Two men charged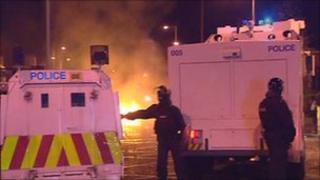 Two men aged 23 and 34 have been charged with public order offences after rioting in east Belfast last Friday.
The pair are due to appear in court on 28 July.
Six officers were injured as missiles were thrown and vehicles were damaged following a "mini Twelfth" parade.
Two other men, aged 35 and 47, and a 17-year-old boy appeared in court on Monday charged with public order offences over the violence.
A 28-year-old man also arrested over the trouble was released after being cautioned for disorderly behaviour.
The trouble was not as serious as rioting which broke out in the same area in June and police said it had not been orchestrated.