Larne House security firm criticised by Amnesty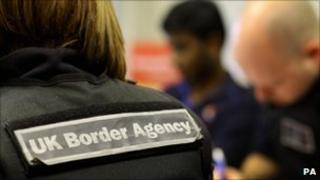 Amnesty International has raised concerns about a private security firm who will operate Northern Ireland's first holding centre for illegal immigrants.
The UK Borders Agency will start operations at the Larne House centre next week.
Reliance Secure Task Management will run the facility.
Amnesty has named the firm in a report highlighting "serious failings" in the way private companies handle detainees.
The report claims firms contracted by the government have reportedly used dangerous and improper techniques to restrain illegal immigrants.
It goes on to say that there is no mandatory training in the safe use of handcuffs and restraints and there is no system in place to ensure that those accredited to conduct removals have received the required level of training.
Mistreatment
Amnesty has called on the Justice Minister David Ford to encourage the Home Office to introduce the independent monitoring of all enforced removals and improved training for staff.
The majority of cases outlined in the organisation's report, which claim inadequate training and mistreatment of detainees, relate to Group 4 Securicor, who previously had the contract with the Home Office to supply security staff in all UK detention centres.
But it also names Reliance, who took over two months ago.
The report outlines an incident in 2008. Some Reliance staff were working in a police custody suite in Brighton when a man was found in a coma in his cell. He is now paralysed with a permanent brain injury.
A later Independent Police Complaints Commission report highlighted "systematic failures by custody staff".
Patrick Corrigan from Amnesty International in Northern Ireland said: "As operations at Larne House get under way, we are calling on Justice Minister David Ford to raise these concerns with the Home Office and ensure that the practices in Larne and the transportation of detainees from Northern Ireland meet the necessary human rights standards."
Larne House will accommodate a maximum of 21 illegal immigrants for a period of up to seven days from 11 July.
The facility is the first of its kind in Northern Ireland.
In a statement obtained by Amnesty International - Reliance said that "the Home Office sets policy in this area and, at this stage, we don't wish to comment further".
Also in a statement Group 4 Securicor said it has "always operated to the highest possible standards of the safety and welfare for those people in our care".