Republican SF chief Des Dalton charged over parade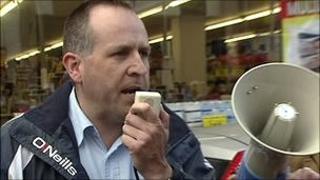 The president of Republican Sinn Fein Des Dalton is due in court later charged with organising and participating in an illegal parade.
He has been charged along with another man, aged 39, over a parade in Lurgan, County Armagh, on 23 January.
A number of Mr Dalton's supporters protested outside Lurgan police station on Wednesday evening.
They said he had been stopped in his car on the way to a republican prisoners protest rally in the town.
The men are due to appear before Craigavon Magistrates Court later on Thursday.