Judgement due in Omagh bomb civil case appeal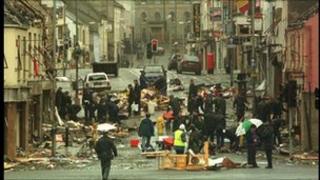 Four men found liable for the Omagh bombing in a landmark civil case will find out on Thursday if their appeal against the ruling has been successful.
Michael McKevitt, Liam Campbell, Colm Murphy and Seamus Daly, brought the appeal after the families of some of the victims sued them and won their case in 2009.
They were awarded £1.6m in damages.
Twenty-nine people and unborn twins were killed in the Real IRA attack.
Lawyers for the families are also appealing the compensation awarded. They say it should have been more because of the scale of the outrage.
No-one has ever been convicted in a criminal court of causing the deaths of the Omagh victims.
The only man to face criminal charges over the Omagh killings, Sean Hoey from Jonesborough in south Armagh, was acquitted in 2007.
The families brought the multi-million pound civil action in an attempt to bring fresh information about the atrocity to light.